MC10-15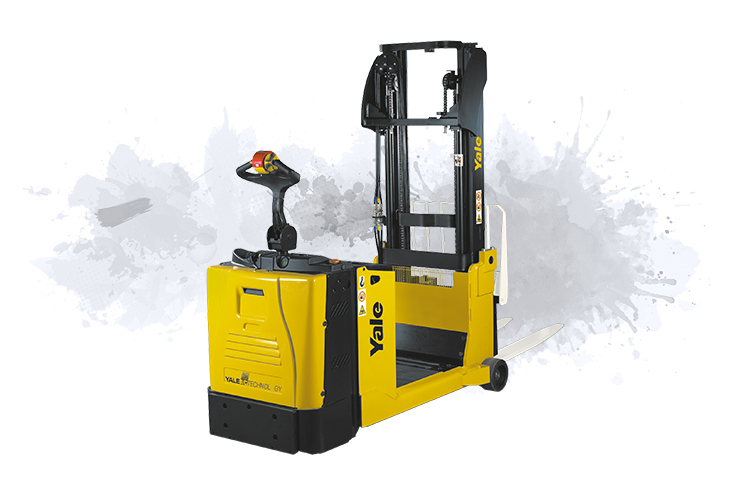 Counterbalanced Stacker
Ideal for stacking of goods in low to medium height racking is limited to a few hours per day.
The MC series with its high mounted reversible tiller arm can be used for applications where stackers with support arms cannot operate e.g. lifting closed pallets (with bottom boards) directly from the floor
Ergonomic tiller head


The high mounted reversible tiller arm can be operated from the rear of the truck or from the large operator platform for ride-on operation, and features an ergonomic shaped handle and integral hand guard. Large, low-effort, butterfly buttons control direction of travel, speed and the electromagnetic brake - all without the operator's hand moving from the handle. Left hand buttons operate slow speeds for fine positioning, right hand buttons control proportional lifting and lowering, the horn is on top



Multifunction display


The multi functional dash-board display provides information on the status of the truck and alarm conditions should they occur. Operator information includes the battery discharge indicator a d odometer. The red mushroom shaped button can be activated to stop the truck immediately in case of emergency.



Robust and durable


The steel welded chassis comes in three lengths and the 939mm maximum width of the truck makes it ideal for handling in tight spaces. A range of masts are available to suit different applications including two stage LFL and three stage FFL configuration as standard.



Operator platform


The large operator platform allows the operator to determine the most comfortable driving position during long shifts and travel distances. The cushioned platform comes with an operator presence switch that prevents the truck from operating without the operator being on-board. 



Energy efficiency


The 4kW AC motor provides instant response to forward and reverse traction. Whilst the maintenance free motor only requires an inspection every 1000 hours and provides low operational costs. The 3kW DC lift motor provides power to match the trucks application. Electronic performance parameters can be matched to the application by a service engineer. 



United Motors MC10-15
Model
| Model | Load Capacity (kg) | Lift Height (mm) | AST (wide / long) (mm) | Battery Capacity (V / Ah) | Weight (kg) |
| --- | --- | --- | --- | --- | --- |
| MC12 (stand-on) | 1200kg | 5076mm | 3258 / 3374mm | 24V / 400Ah(V/Ah) | 2310kg |
| MC15 (robot) | 1500kg | 4176mm | 4503 / 4491mm | 24V / 400Ah(V/Ah) | 2505kg |
| MC12 (pedestrian) | 1200kg | 5076mm | 3258 / 3374mm | 24V / 400Ah(V/Ah) | 2280kg |
| MC10 (stand-on | 1000kg | 5076mm | 3111 / 3227mm | 24V / 300Ah(V/Ah) | 2210kg |
| MC10 (pedestrian) | 1000kg | 5076mm | 3111 / 3227mm | 24V / 300Ah(V/Ah) | 2180kg |
| MC12 (robot) | 1200kg | 4176mm | 4362 / 4350mm | 24V / 400Ah(V/Ah) | 2280kg |
| MC15 (pedestrian) | 1500kg | 5076mm | 3406 / 3522mm | 24V / 400Ah(V/Ah) | 2360kg |
| MC10 (robot) | 1000kg | 4176mm | 4225 / 4211mm | 24V / 400Ah(V/Ah) | 2180kg |
United Motors MC10-15
Download
MC Series Spec Sheet
MC Series Spec Sheet
MC Robotics Series Spec Sheet
MC Robotics Series Spec Sheet
Yale Products Range Guide
Yale Products Range Guide
United Motors MC10-15